I hesitated to blog about today, because I'm a little Republican and a little conservative, and a lot anti-abortion(o excuse me, "pro-life").
However, who couldn't be excited, and happy that an African American was sworn in as POTUS. (You know I wanted Rice or Powell.) Can a student ever again say, "The American Dream is only for whites."?
No!
I'm so glad for the renewed hope in this country, and seemingly, the world. That so many people in other nations are so happy is a little scary to me.
I saw several political cartoons I liked. The ones with Martin Luther King Jr. watching the swearing in were wonderful. So was the one with Lincoln, Kennedy, and King. Then there was one with Michelle O reading a newspaper with headlines about the economy, the middle East, etc. The Judge was saying to BHO, "Do you really swear you want to take over this ---awful mess?" Similar to that was the judge saying to BHO,"The words are 'So help me God, not God help me.'"
I've been praying for BHO and the country. I pray for the peace and prosperity of Jerusalem. That would be nice for this country, too.
Now, to the insignificant. I rate the Michelle O inaugural ball gown an A-. The the general shape and the one shoulder were wonderful. I just don't like knobs on clothes. Oh, they are flowers. Maybe I'll get over it. She's beautiful, and her husband's obvious affection for her really increases her attractiveness.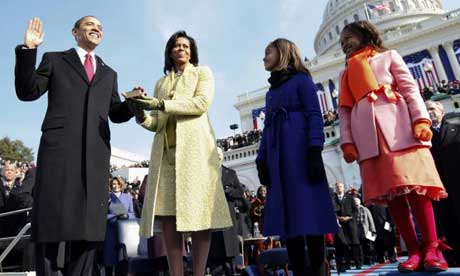 I loved the swearing-in ensemble. A. The green gloves and shoes added the perfect touch.
I'd bet that the combination of orange and pink will become popular. The girls are great.
The train ensemble was also an A. I like purple. It stands either for leadership or for a melding of head and heart. It suits her.
Aretha F's gray ensemble was very attractive. loved the hat. Wish I could carry off gray.
Back to the significant
I like that BHO picked a cabinet of mostly experienced people. However, Hillary as SoState is scary. If she's approved, I hope she has a lot of competent staff. Her main qualification seems to be that she slept down the hall from the POTUS. Of course, she was really selected, not to give her a consolation prize, but to keep the enemy close.
God bless and keep the Obama family.
To paraphrase "Fiddler on the Roof", God bless and keep our enemies, far from us.